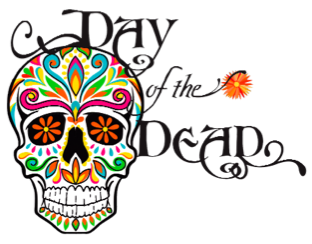 This holiday focuses on gatherings of family and friends to pray for and remember friends and family members who have died to help support their spiritual journey.
Dia de Los Muertos - It sounds so mysterious, Mexico's celebration for when dead relatives, both young and old, are allowed to return to the mortal world for two days to visit loved ones. Spirits coming down and walking among the living, sampling earthly treats and joining in the festival ... it sounds like a merry version of our Halloween holiday.
But instead of scary goblins and blood-curdling shrieks, the people in Mexico welcome the spirits of their families with the delicious smell of food in the air, tasty candies decorated like skulls, and lighted candles to guide them home again. Gravestones are decorated, and the whole family will gather in the graveyard to wait and pay respects to the deceased.
I'm unable to put up an altar with my Papa's picture with all the food and goodies he used to like. I know it's only been five years the pain is really still overwhelming it's still too soon. We as a family go visit a new family every year in our local graveyard to show our respects. We say a prayer and hope they are able to see their family on this day.